Mitzva Days 5781
A kind attitude towards each other makes each individual a better person, and together we become a real Community!
Make a donation now
In these difficult times for all of us, it is very important to support those who need it the most. Those who are vulnerable and lonely, those who are deprived of warmth and attention.
Hanukkah is approaching – a holiday of light and miracle.
The Mitzvah Days (Days of Good Deeds) campaign, which has already become tradition for our Community, unites all caring members of our Community who are willing to help and support lonely people.
For many years, our volunteers were making Hanukkah miracles by visiting lonely elderly members of our Community. Together they were lighting Hanukkah candles, spending time together and giving gifts. We cannot get together right now, but even apart, we can still do our part to repair the world (tikkun olam), even from the safety and comfort of our homes.
We invite you to take a social action, to support the purchase and delivery of Hanukkah gift packages for lonely members of our Community.
With your help we will make a difference to the community around us and 171 members of the Welfare Center will receive a special holiday gift which will not only address their real needs, but also bring the  joy of the holiday to their homes.  
You can make a donation through our platform or make a direct payment to a special bank account.
IBAN bank account nr: EE042200221024699962
SWIFT: HABAEE2X
Beneficiary's name: Eesti Juudi Kogukond MTÜ
Payment description: Annetus Mitzva Days
The cost of 1 package is 30 euros.
In total, we need to collect 5,130 euros.
Your support is crucial to our efforts to achieve the goal!
Thank you in advance for your contribution. Your donation will go toward a good deed!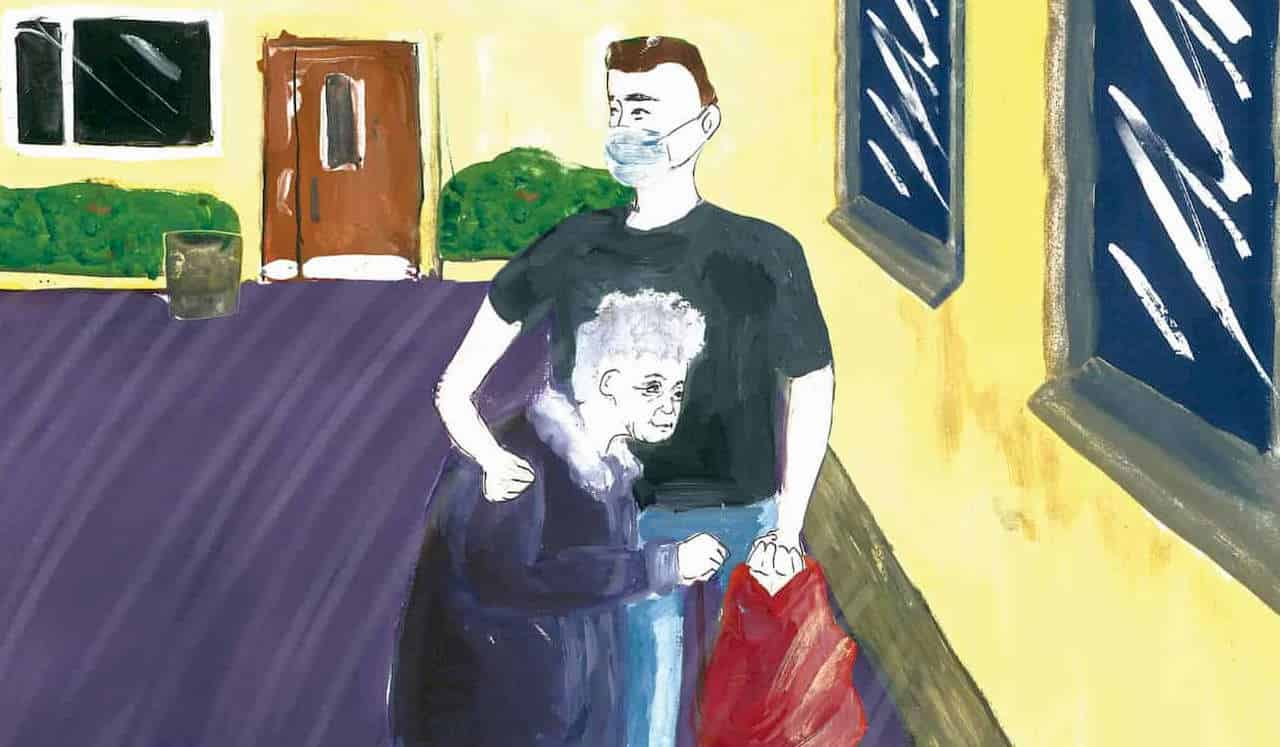 Illustration by Daria Hanova.
We are grateful to our donors!
Merike Rimm
Tatjana Turevskaja
Anna Mazur
Cilja Laud
Vladimir Zelikman
Hanon Barabaner
Lev LUBENSKIY
Mark DUBINSKIY
Dmitri Shmorgun
Boris Kipnis & Alla Jakobson
Konstantin Klugman
Ljubov Nugis
Aleksandr Berg
NATALJA GALTSOVA
Mark Levin
TSIHHOTSKAJA OLESJA
HAZAK GABRIEL
BERKOVITSH SHAJA
BEREZNITSKY GADI
INNA ROMANOVA
ANATOLI ŠEBERŠTEIN
PASSOV BLJUMA
ELEONORA BOGDANOVA
Anonymous Donor
Anonymous Donor
Sofia Baranova
Sofia Baranova
imigolda bekergun
Marina Viktorova
Pavel Fleiser
Fjedor Berman & BLRT Grupp AS
Aleksandr Tkatsenko
Larissa Verhoturova
Vera Goldrina
Vera Goldrina
Vera Goldrina
Sofia Slomka
Fjodor Berman & BLRT GRUPP AS
NORDEN NADEŽDA
Viktoria Rabinovitch
Lembit Arunurm
Igonin Artur
Ricardo Elias Mateo Durand
Bina Glikman
TATJANA OVSJANKINA
BAM DEBORA
JEKATERINA ZOLOTOVA
NELLA KOZLOVSKAJA
DAVID MORDUHHOVITŠ
BAND JANA
DARJA DOBRJAKOVA & PAVEL KUZNETSOV
KIRILL ŠELETSKI
IRINA VOLKOVSKAJA
KOSSENKO VIKTOR
NOVOHATSKI ALEKSANDR
BUGAKIN JEVGENI
IRINA MILERMAN
DAVIDOVITSH BORISS
JELENA ŠMIDT
EVGENY KRASNOBELMOV
PASSOV BLJUMA
JURI BERLINBERG
VALERY GILIMSON
IRINA ŠNEIDER
JEKATERINA FIŠKINA
MAREK PAKKIN
SMUSKIN ROMAN
ALEKSEI JERMAKOV
ALEKSEI JERMAKOV
Iryna Chaika
Алена Хаш
Алена Хаш
Elizabeth Berman
Anonymous Donor
Viktoria Sur
Galina Statsenko
David Kalandarov
Nadia Norden
Nadia Norden
Jevgeni Shklovski
Jevgeni Shklovski
Aleksei & Viktor Kossenko
Anonymous Donor
ALEKSANDR ASTANOVSKI
Dveire Brener
Vadim Landa
Darja Dobrjakova
Darja Dobrjakova
Anonymous Donor
Dveire Brener
Dveire Brener
Anonymous Donor
Anonymous Donor
Igors Bulicevs
Anonymous Donor
Elina Tiidemann
Anonymous Donor
Anton Altement
Galina Romanova
Veera Gorbunova
Liza Liebmann-Baranova
Елена Кенина
Liza Liebmann-Baranova
Galina Romanova
Mihhail Altement
Boriss Davidovitš
Anonymous Donor
Sofia Baranova
Sofia Baranova
Debora Bam
Debora Bam
Debora Bam
Debora Bam
Sofia Baranova
Debora Bam
Алена Хаш
Елена Кенина
Dveire Brener
Anonymous Donor
Natalia Strugovets
Sofja Tirman
Dmitri Kempa
Anonymous Donor
Roman Shtein
Roman Shtein
Anastasija Domanina
Ljudmilla Rekun
Anonymous Donor
Jelizaveta Gritsenko
Chris Ellermaa
Anonymous Donor
Anonymous Donor
JEVGENI RUBINSTEIN
Marek Pakkin
Leonid Korobov
Leonid Korobov
Leonid Khrapko
Ilja Shmidt
Debora Bam
Циля Лауд
Oleksandra Nazarova
Olga Berman
Natalia&Ilja Lapidus
vasily aleksandrov
Anonymous Donor
Bella Lipovrovskaja
Anonymous Donor
Oleksandra Nazarova
Dveire Brener
OLGA GORTŠAKOVA
MARK LEVIN
YURY MIZIKOV
TEARO OÜ
ANATOLI BEILINSON
INNA RUBANOVITS
NATALJA JAMPOLSKAJA
ILJA SUNDELEVITŠ
VLADIMIR ZELIKMAN
LEONID ZELIKMAN
LEIVI ŠER
Marina Astanovskaja
LEONID NUDELMAN
SVETLANA SHENG
ALEKSANDR PLOTKIN
AVIVA GUBAIDULINA
EMILIYA KRASNOBELMOVA
INNA ROMANOVA
BORIS KIPNIS
GABRIEL HAZAK
VIKTORIA PODOLNAJA
SHAJA BERKOVITSH
ALEXEY KRUPENIA
ROMAN DRANOV
ALISSA ŠNAIDER
LIUBOV SPIVAK
OLESJA TSIHHOTSKAJA
OLEG KORSUNSKIY
INNA NIKITENKO
MARK DUBINSKIY
JAKOV SOTNIKOV
Vadim Latuta
ANNA MAZUR
IRINA ŠNEIDER
Oleksandra Nazarova
Anneli Sits
Anonymous Donor
Anonymous Donor
Aleksandr Gritsevski
Charlie Ron
Anonymous Donor
Charlie Ron
Dveire Brener
Anonymous Donor
Dveire Brener
Irina Shlick
Konstantin Klugman
Anneli Sits
Danielle Chaimovitz
Екатерина Белоус
Екатерина Бурмацкая
Aleksandr Avramenko
Anonymous Donor
Anonymous Donor
Жанна Шапошниченко
Mickael Gordin
Klara Kabanova
Konstantin Stivelman
Hanon Barabaner
Karin Kallas-Põder
Dmitri Jakobsen
Chanie and Shmuel Kot
Sergei Vort
семен меламед
Jelena Kroman
Юлия Кругляк
Anonymous Donor
Anonymous Donor
Мария Семенюк
Gennadi Gramberg
Мария Семенюк
Maria Nudelman
Salmen Šois
Natalja Keldrimägi
Charlie Ron
Liilia Ennik
Salmen Šois
Natan Shterenberg
Salmen Šois
Елена Кенина
Aleksandr ja Lidia Dusman
Dveire Brener
Виктория Подольная
Anonymous Donor
KONSTANTIN JERŠOV
Alla Ferdmann
Anonymous Donor
Irina Šneider
Veniamin Kofman
Irina Milerman
Sofia Slomka
Darja Allikas
Anonymous Donor
Maria Nudelman
Irina Shlick
Ron Luvistsuk
Mark Vegas
Larisa Simonova
Юрий Мизиков
Алена Хаш
Daniel-Aleksander Chasan
Avraam Hasin
Irina Dzjumenko
Jevgenia Rõõmusoks
Dmitri Muskevits
Anna Karboinova
Marina Suyngalovskaja
Marina Suyngalovskaja
Bina Glikman
Екатерина Бурмацкая
Liubov Spivak
Jevgeni Shklovski
Jevgeni Shklovski
Lilia Sokolinskaja
Anonymous Donor
Natalia Drogul
Vanessa Yaretski
EMILIYA KRASNOBELMOVA
Никита Снетков
Baltic Jewish Network
Margarita Fishel
Jevgeni Martjushev
Jekaterina FIŠKINA
Mark Abel
Natan Shterenberg
Nadia Norden
Veera Gorbunova
Roman Iospa
Valery ja Zhanna Gilimson
Artjem Vidal
Debora Bam
Aleksei & Viktor Kossenko
Chanie and Shmuel Kot
Leivi Sher
Anonymous Donor
Сергей Гринвальд
Леонид Шуралев
Dveire Brener
Dveire Brener
Dveire Brener
Alla Kofman
Lev Kempa
Dveire Brener
Anonymous Donor
Ольга Бочарова
Anonymous Donor
Dveire Brener
Dveire Brener
Leonid Korobov
Pavel Fleiser
Roman Shtein
Julia Pritsko
Julia Pritsko
Pavel Fleiser
Alla Kofman
Anonymous Donor
Dveire Brener
Dveire Brener
Dveire Brener
Vlada Schotter
Aleksandr Avramenko
Gilja Melamed
Dveire Brener
Dveire Brener
Dveire Brener
Dveire Brener
Dveire Brener
Dveire Brener
Pavel Fleiser
Dveire Brener
Dveire Brener
Dveire Brener
Dveire Brener
Dveire Brener
Natan Shterenberg
Dveire Brener
Dveire Brener
Dveire Brener
Dveire Brener
Dveire Brener
Dveire Brener
Dveire Brener
Dveire Brener
valery Latuta
Roman Goldrin
Roman Goldrin
Aleksandr ja Lidia Dusman
Armir Kulman
Anonymous Donor
Наталья Стратиенко
Наталья Стратиенко
Наталья Стратиенко
Chanie and Shmuel Kot
Sofia Slomka
Gennadi Gramberg
Danielle Chaimovitz
Galia Kelenzon
Tanja Golojan
Anna Eivin
Jakov Sotnikov
Tatiana Stomakhina
Anonymous Donor
Ilja& Natalija Lapidus
Liza Liebmann-Baranova
Tatjana Solts
Anne Orasmae Tsizik
Anne Orasmae Tsizik
Anne Orasmae Tsizik
Ilja Shmidt
Oleksandra Nazarova
Mikhail Fomichev
Anonymous Donor
Maria Zeltser
семен меламед
Julia Lansberg
Елена Кенина
Dveire Brener
Dveire Brener
Dveire Brener
markus kozlovski
Irina Sneideer
Maria Nudelman
Maria Nudelman
Marina Kumanina
Scott Levy
Scott Levy
Scott Levy
Scott Levy
Pavel Fleiser
Valentin Manusa
Pavel Fleiser
Pavel Fleisher
Scott Levy
Irina Shneider
Valeria Larina
Irina Shneider
Irina Shneider
Haim Grinfeld
Pavel Fleiser
Pavel Fleiser
Pavel Fleiser
Chanie and Shmuel Kot
Irina Shlick
Irina Shlick
Елена Кенина
Anonymous Donor
Olga Gorchakova